Hospitality venues store and use various chemicals for their kitchens, bars, beer lines, bathrooms etc.  We often find many venues struggle to keep their Chemical Register up to date and readily available.  A recent legislation change in Queensland has provided some additional motivation to ensure venues have their Chemical Registers up to date, as well as readily available.  This motivation comes in the form of On the Spot Fines.  "Hooray!!" Did I hear you say?
Workplace Health and Safety regulation 2011 Infringement notice offence
Infringement notice fine (penalty units)
·       s346(3) register of hazardous chemicals is readily accessible
Individual     – $432

Corporation – $2160

·       s346(1) register of hazardous chemicals at the workplace is prepared and maintained
Individual     – $720

Corporation – $3600
Recently, while attending a health & safety meeting at a Club it was determined that the best place to keep their Chemical Register was in the chemical storage room, and at the front reception desk.  This meant that the chemical register was available to workers, but also to health & safety inspectors, contractors, and the fire rescue service.  Remember, it is a requirement to consult with staff when making decisions regarding their work health and safety.
In addition to these new fines, there has been a transition in Australia to a Globally Harmonized System (GHS) of classification and labelling chemicals, which took effect on 1st January 2017 (Victoria, WA, and ACT may be different, as they are not on board with national WHS harmonization).  The intention of the change is to provide "practical, reliable, and easy to understand information" (Safe Work Australia, 2016) about the chemicals you are using in your workplace.
What you should know:
The changes will mostly affect the chemical suppliers, as they are required to update their labels and Safety Data Sheets (SDS) with new phrases used to describe chemicals.
Expect to see different wording and pictures used like the below examples: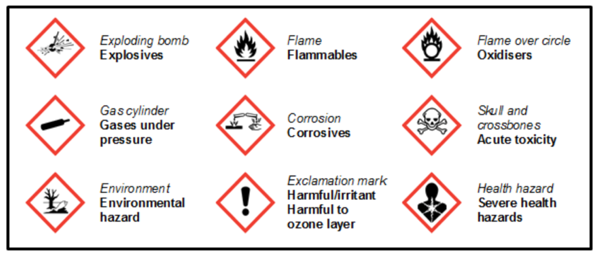 You do not have to re-label your existing stock of chemicals, but suppliers are obligated to use the updated labels and SDSs for any chemicals imported or manufactured after 1st January 2017.  So before receiving your chemicals, ask your supplier if they have the updated labels attached.  Otherwise you could be wrongly receiving incorrectly labelled chemicals.
If you are struggling to meet your Health and Safety compliance obligations then Lighthouse Safety can help.  In fact, we help many clubs and venues manage their ongoing compliance obligations.   Give us a call or send us an email and we will be happy to chat about what we offer to other workplaces like yours.  Patrick Martin is the Managing Director and can be contacted on 0422 669 631 or via email: patrick@lighthousesafety.com.au